A new study conducted by researchers at Florida International University, Miami, has found that communities in the United States with a high density of African Americans are disproportionately burdened with the adverse outcomes of coronavirus disease 2019 (COVID-19).
The study, which assessed the three most populous counties in each state and territory, found that the prevalence of COVID-19 was 5% higher, with each percentage increase in the proportion of African Americans. The death rate also increased with each percentage increase by 2 per hundred thousand people.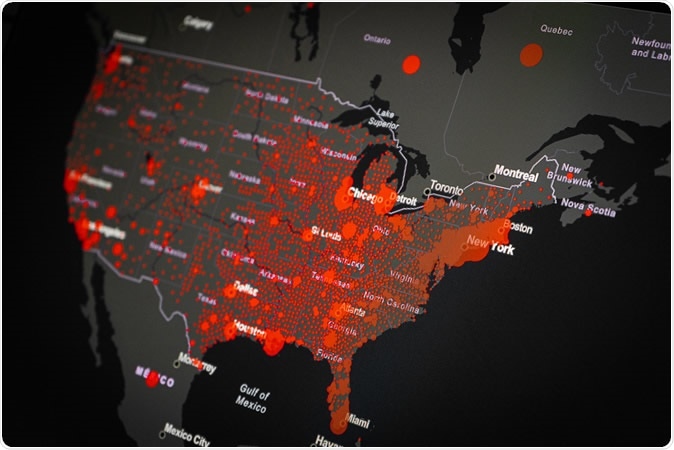 "Further study is needed to indicate if this burden is related to environmental factors or individual factors such as types of employment or comorbidities that members of these community have," said Elena Cyrus and colleagues.
A pre-print version of the paper can be accessed on the website medRxiv* prior to the peer-review process.
Since the COVID-19 outbreak was first reported in Wuhan, China in December 2019, the pandemic has now resulted in approximately 1,548,000 cases and more than 93,000 deaths in the United States.
African Americans are disproportionately represented
As researchers gather and analyze data on social disparities and inequalities in the United States, one finding that has emerged is that African Americans are disproportionately represented in the COVID-19 epidemic, says Cyrus and team.
This is not surprising they add since research has previously shown that African Americans have higher rates of conditions such as diabetes, heart disease, obesity, HIV and asthma, compared with non-Hispanic Whites, as well as earlier onset of morbidities and higher mortality rates.
Social determinants that may be involved include a higher proportion of African Americans living in crowded communities, working in services industries where the risk of exposure to severe acute respiratory syndrome coronavirus disease 2 (SARS-CoV-2) is greater; and having poorer access to quality healthcare.
What did the current study involve?
This study used linear regression analysis to explore the density of African American communities and other social determinants in relation to the prevalence of COVID-19 and the associated death rate among the three most populous counties in each U.S. state and territory.
Overall, data collected for cases were analyzed across 152 counties and parishes between January 22, 2020, and April 12, 2020.
After adjustment for median age, the density of the county African American population was directly associated with the prevalence of  COVID-19, which increased by 5% for each 1% increment in African American density.
There was also an association between county African American density and deaths related to COVID-19. For each percentage increase in African American density, the death rate increased by 2 per 100,000 people.  
"According to this ecologic study, in the U.S., higher African American density was more strongly associated with COVID-19 prevalence and death than the higher median age in a community," said Cyrus and team.
The study found no significant association between the prevalence of COVID-19 and the poverty level across counties. However, it did identify a non-statistically significant trend towards an association between death rate and county poverty level.
The authors say the findings support previous studies suggesting that differences in the number of cases, hospital admissions, and deaths may be attributable to an increased prevalence of comorbidity and job-related exposure among African Americans.
Concerns about disease resurgence
The team points out that in the majority of the United States, the incidence of COVID-19 has peaked, and the rate of new cases has started to fall, but that some researchers have predicted disease resurgence later in the year if social distancing policies travel restrictions are relaxed, for example.
"In the anticipated surge in the latter part of the year, the most at-risk vulnerable populations, including African American populations, will be disproportionately represented, more so than in the first wave of COVID-19 infections."
The authors say much of this may be accounted for by the crowded living conditions among many African American communities, increasing the risk of transmission. They also suggest that difficulty accessing COVID-19 testing and quality healthcare may be contributing factors.
Widespread screening and services should be available
"Screening and services should be comprehensively available regardless of insurance status or the ability of the individuals to pay for medical care," writes the team. "Widespread availability of these services, as well as vaccines and treatment when they are available, will contribute to the reduction in overall incidence, transmission, and community spread."
The researchers also point out that, although non-statistically significant in this study, the data did trend towards an association between the likelihood of survival and poverty levels, suggesting that other populations affected by poverty may also be disproportionately burdened.
"Further comprehensive analysis is needed to understand state, community and individual levels of social determinants on COVID-19 health outcomes for all racial/ethnic minority and other vulnerable populations living in the United States," concludes the team.
*Important Notice
medRxiv publishes preliminary scientific reports that are not peer-reviewed and, therefore, should not be regarded as conclusive, guide clinical practice/health-related behavior, or treated as established information.